Overview
Products: DNA test kit and DNA data upload, ancestry tracing, health reports, and supplement subscription plan
Cost:

Diet, fitness, and vitamin report using previously sequenced DNA for $49
Health and Ancestry DNA test report for $99
Premium Report, adds skin recommendations to the Health and Ancestry DNA test for $139
Vitality Bundle, includes Premium + Supplements plan for $289

Reports:

Ancestry report with included ethnic makeup
Health report covering:

Genetic traits
Diet
Exercise
Skin traits

Supplement report with three months of supplements

Raw data access: Yes
Privacy:

California privacy rights and disclosure notice compliant
Clinical Laboratory Improvement Amendments of 1988 (CLIA), College of American Pathologists (CAP) compliant
Personal information stored separately from genetic data; genetic samples are destroyed after analysis
Does not sell data to third parties, is ambiguous about whether they share user data with third parties for research purposes

Alternatives:

For genealogy – AncestryDNA and 23andMe
For DNA health reporting – SelfDecode and Orig3n
For niche health issues and a personalized genetic blog with citations of the latest genetic research – SelfDecode
Vitagene Pros and Cons
Pros
Cons
– Frugal DNA analysis starting at $49
– Easy-to-use and understand health reporting with actionable recommendations
– Tests for skin conditions in addition to more common diet and fitness reporting which many DNA testing services neglect
– Allows users to upload their DNA if they have previously sequenced it with 23andMe
– Claims not sell data to third parties
– Fairly basic ancestry report without the finer detail provided by industry leaders; not available as a stand-alone report
– Supplement subscription pricing is not readily viewable but adds considerable costs to the DNA test reports
– Ongoing upselling to convince users to purchase the supplement subscription plan
– Health data is fixed to the categories of supplement, diet, fitness, and skin conditions; neglects other topics such as attention span, headaches, sleeping difficulties etc.
– No disease and carrier tracking reporting
– Does not ship internationally
– History of a major security breach
About Vitagene
Vitagene was founded in 2014 and offers a subscription-based supplement and DNA health testing and reporting service. It is operated through a network of partnering physicians, with headquarters located in San Francisco, California and service providers in Chile, India, Russia and other countries. The company also has a division called "1Health.io"— a precision health platform that powers major brands and manages consumer test kits through CLIA labs.
Vitagene's initial offering was limited to supplement recommendations but has since expanded to include personalized diet and exercise regimens, skincare products, and ancestry reports. Their objective is to improve customers' health and wellness through informed choices based on individual DNA reports.
In May 2020, Vitagene announced the launch of the first FDA authorized, saliva-based, "Zero Contact" COVID-19 at home test with 50,000 available kits.
Review of Vitagene Products & Features
Vitagene offers a DNA Health test covering a range of topics such as genetic traits, diet, exercise, and skin conditions. Their signature product is a supplement subscription plan which the company claims is tailored to your unique genetic profile.
In addition, the company offers basic ancestry tracing that breaks down your ethnic makeup into 24 different geo-regions and an outline of major migrations that may have affected your family tree going back thousands of years.
As a part of their health testing, Vitagene provides information and scientific sourcing for relevant genes, and what steps users can take to mitigate risks and improve their overall health. The focus of these recommendations is the supplement subscription which the company offers as a part of their all-inclusive "Vitality Bundle" plan ($289).
Vitagene's reports include tips about diet, exercise and skin recommendations beyond supplements, but do not provide genetic disease predisposition or carrier gene tracking.
Users who have already tested their DNA with another company, such as 23andMe or AncestryDNA, may upload their data files and purchase Vitagene subscription plans at a discount rate which deducts the costs of the DNA test kit.
Review of Vitagene Reports
Vitagene has a basic ancestry tracing report which identifies a user's ethnic makeup within 24 geo-regions. The report also displays mass migrations which likely had an effect on the user's family tree over the past several thousand years. The reports do not include an assessment of Neanderthal DNA.
Compared to other services like 23andMe, AncestryDNA and MyHeritage which focus on ancestry tracing and genealogy, these reports are fairly basic. Also, Vitagene's reports can only be purchased along with their Health reports, which are the primary focus of their analysis. Below are a couple examples of their ancestry reports.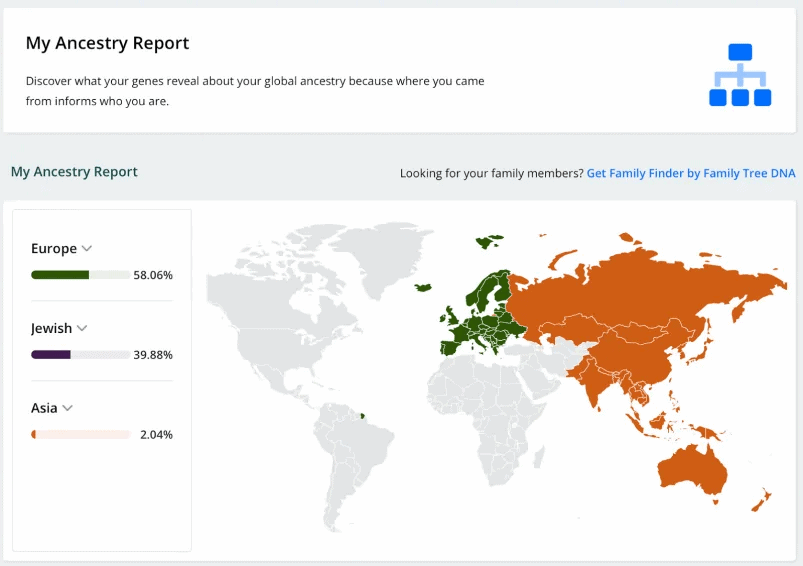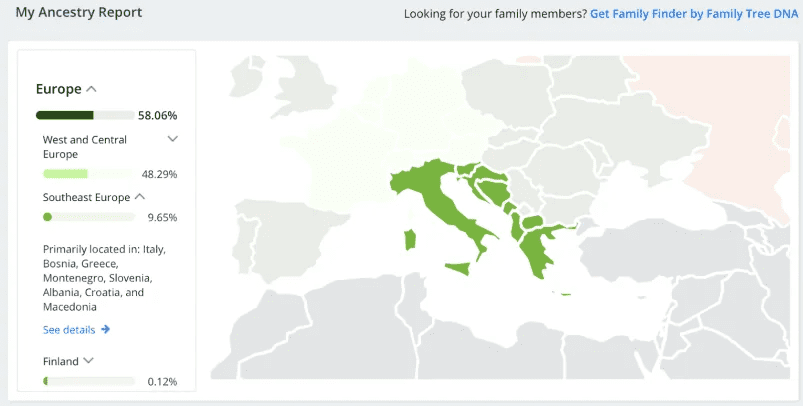 Vitagene divides its health reporting into several different categories:
Genetic Traits
Exercise Traits
Micronutrient Traits
Skin Traits
Within each topic users can zero in on various subcategories and see what their genetic risks and predispositions are. The information is laid out cleanly in a way that anyone could easily understand and act upon.
Users can also read background information and learn about the interplay between lifestyle and genetics for a given trait. Additionally, the report makes recommendations about what you can do to improve your health and includes links to support the recommendations.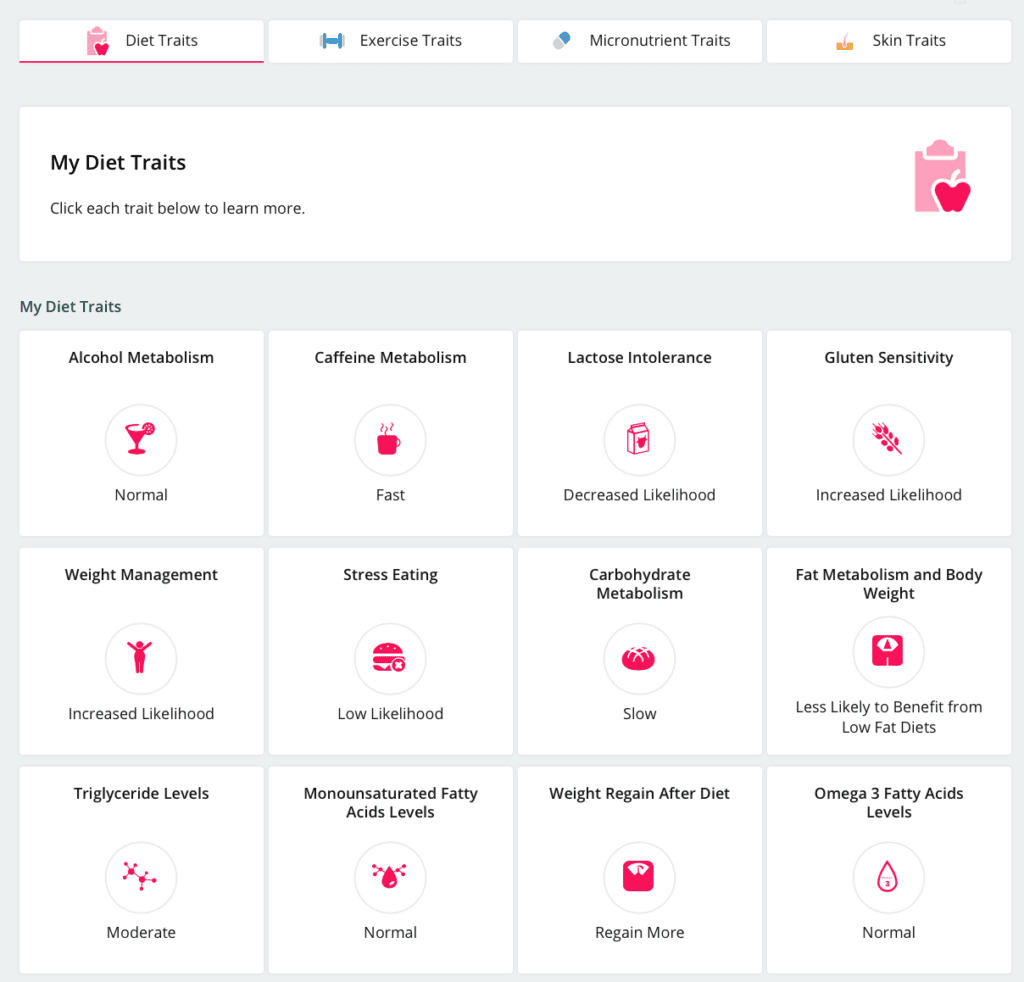 Below are some examples of detailed explanations and recommendations for Vitamin D deficiency, exercise suggestions, and skin traits (the last of which requires the Premium Report plan).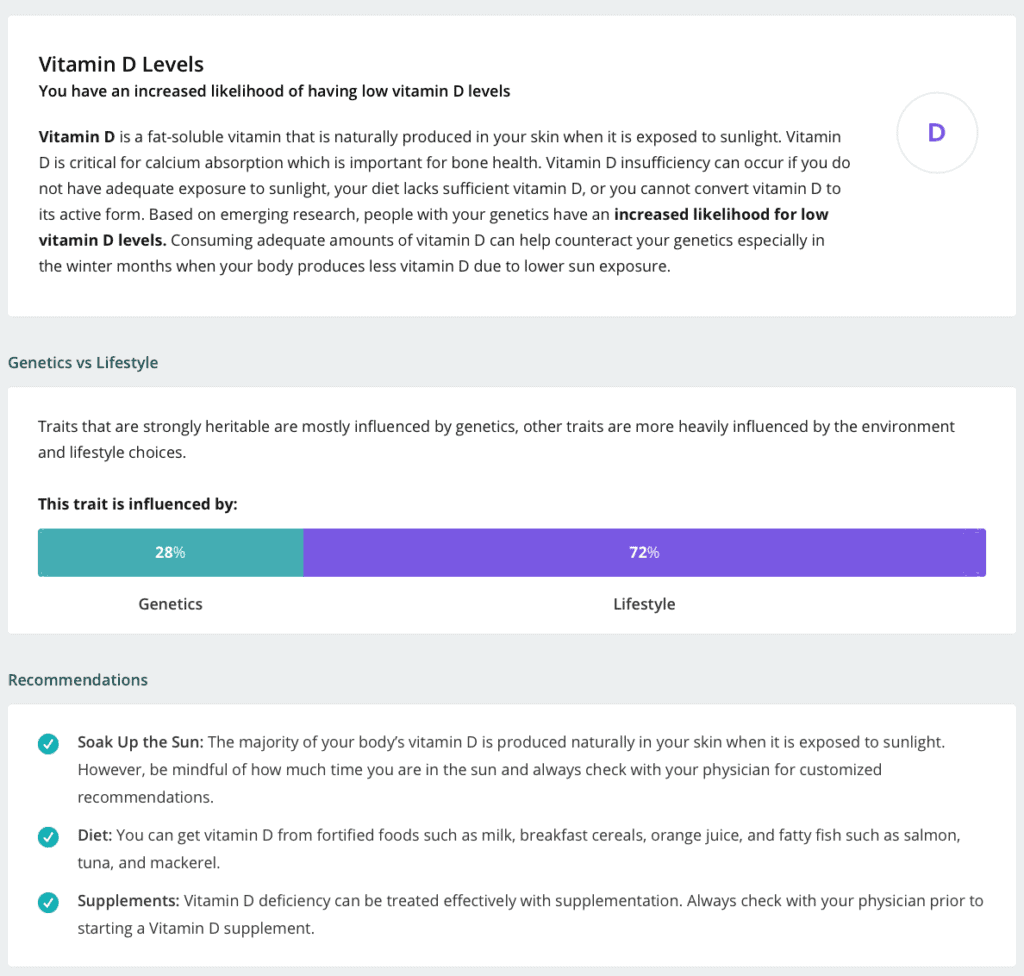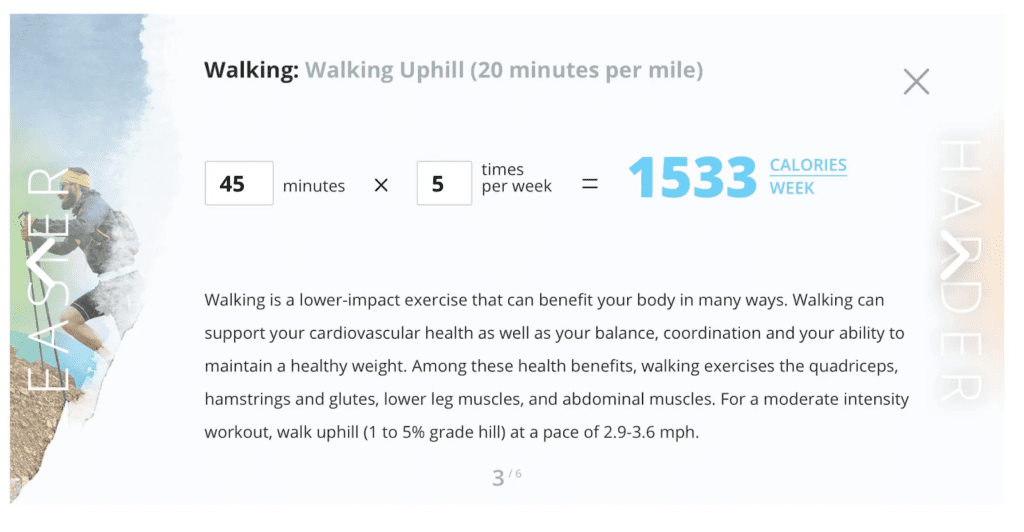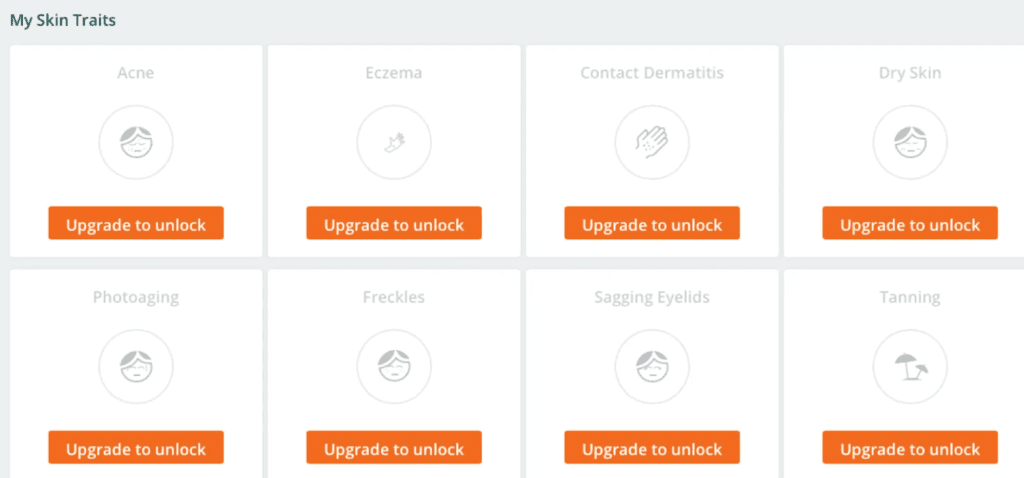 Cost of Vitagene
Vitagene charges users a range of one-time fees for their DNA test kit and various reports, with an option to purchase a monthly subscription plan for their supplement service.
The simplest package Vitagene offers costs $99 and includes the DNA test, an Ancestry report, and a Health report covering diet, exercise and supplement recommendations. Their Premium report costs $139 and adds skin recommendations to the Health report in addition to continuously updated reports based on the latest genetic research.
The most expensive package is the Vitality bundle at $289 which includes a 90 day supply of four supplements delivered to your home. Additional supplement subscriptions are available, but the pricing for these plans is not posted on the company website.
If you have already had a DNA test done, Vitagene offers an option to upload your data and purchase their reporting for $49.
Is Vitagene Worth It?
Vitagene is one of the more robust genetic health testing services currently available. They provide easy-to-use and understand reports that offer actionable recommendations and clearly explained insights into genetic health with integrated scientific references. However, their health insights only cover a limited scope of topics.
In addition to DNA health testing, Vitagene also offers a basic ancestry tracing report which provides data about your ethnic makeup and maps out the impact that historic migrations may have had on your family tree. Their all-inclusive plan costs $289 and includes a 90 day supply of four of the supplements that Vitagene offers.
This limited number of supplements may be of only marginal benefit for many users since the utility of supplements is highly dependent on the specific genetic makeup of each individual. In addition, in order to properly benefit from a supplement regime users will need to purchase the expanded subscription plan. This significantly increases the ongoing cost to the user and may therefore not be worth the price. Vitagene conveniently does not clarify this information on its website.
Relative to some DNA Health testing companies, Vitagene is an economical choice which allows users to gain useful knowledge about their unique genetic makeup. For example, Orig3n offers many similar insights but charges per report, in a range of $99/report to $249/report, making it a much more expensive alternative.
By contrast, SelfDecode offers an expanded scope of genetic insights covering up to 83 million genetic variants, with an annual subscription of $97/year or lifetime access for $297, making it a better investment. The relatively limited scope of health topics that Vitagene addresses further calls into question the value of their supplement subscription. Users' only option is to spend large amounts of money for supplements which, by Vitagene's own admission, are intended to improve only a relatively limited scope of health considerations.
Compared to more well known genealogy sites like 23andMe, AncestryDNA and MyHeritage, Vitagene's ancestry report is probably not worth it. Users can gain far more granular insight into their genetic history with companies that focus on genealogy.
Further, Vitagene does not offer independent purchasing of their ancestry report, it is only available as an add on to their health reporting. However, with respect to price, Vitagene is competitive with the leading genetic health alternatives assuming you purchase one of their cheaper plans. Users can also save money if they have already had their DNA tested by simply uploading their data to Vitagene and purchasing the reporting package of interest to them.
Health Recommendations from Vitagene
Vitagene provides a DNA health analysis covering a range of topics from diet and exercise to skin traits and supplement recommendations.
Users can learn about what diet their genome is most compatible with and receive custom meal plans suited to their biology. Similarly, the fitness report shows what style of exercise is most conducive to your goals given your genetics, and why you may have struggled with training in the past without tailoring your workouts to your genetic makeup. The skin traits and supplement recommendations are also designed in a user friendly format that explains which conditions you should be attentive to and what you can do to address vitamin deficiencies.
For all of these reports, Vitagen explains what genes are the basis of their analysis, and makes recommendations for lifestyle changes and supplement regimens which can enhance your overall health. This serves as the platform for Vitagene to upsell users on their supplement subscription plans which is the primary focus of their health enhancement approach. The all-included Vitality Bundle ($269) includes a 90 day supply of four kinds of supplements Vitagene has for sale.
Vitagene may disappoint users looking for a comprehensive DNA health report which covers custom health topics, e.g. chronic pain, mood, sleeping difficulties etc, and more, all of which are included at SelfDecode. They also do not feature disease or carrier gene tracking in their reports unlike other DNA testing companies such as MyHeritage and 23andMe.
Review of Vitagene Privacy & Data Security
Vitagene collects various kinds of data about its users, such as personal information, account details, and a health profile in addition to client DNA. User data is stored without any identifying information and clients' physical sample is destroyed after being processed.
The company's privacy page states that they do share your information with third parties "for their own services and marketing purposes" unless you choose to opt out. Users can do this by submitting a "Do Not Sell My Personal Information" form, or by emailing their support desk. That said, elsewhere on their website Vitagene states that it does not share user data with any third party without explicit consent.
Vitagene follows the standards of the Clinical Laboratory Improvement Amendments of 1988 (CLIA), College of American Pathologists (CAP) and "The California Consumer Privacy Act" or "CCPA." Their privacy page does not mention GDPR compliance, but does allude to European legal disclosures and protections of personal information.
Bloomberg news reported in July of 2019 that Vitagene's user data had been compromised by the company leaving "thousands of client health reports exposed online for years." After being notified of the issue, Vitagene shut down external access to these records.
Partnerships
In 2019 Vitagene announced plans to acquire In-Video Impressions, an audience targeting and digital advertising company. In response to the COVID-19 outbreak, Vitagene's subsidiary platform 1Health.io partnered with Hamilton Health Box to provide COVID-19 testing to oil and gas company employees.
SelfDecode vs Vitagene
SelfDecode delivers a wide range of natural supplement, diet and lifestyle suggestions for both popular and niche issues based on your genes that you can implement right away. Vitagene offers genetic reports for stock topics such as fitness, diet, vitamin deficiencies, and  skin conditions, but nothing beyond this limited scope. The company does not offer disease or carrier gene tracking.
SelfDecode provides recommendations that are best for your genes and the relevant lifestyle changes you could make to optimize your health given your genetic makeup. This thorough analysis is done by incorporating up to 83 million variants about which users can access the latest research, giving them the agency to improve their wellbeing independently. Each recommendation is explained so that you understand why it is made and what the science behind the suggestion is. Vitagene, by contrast, emphasizes the role of vitamin supplements,  while failing to provide a more holistic approach to overall genetic health and wellbeing.
SelfDecode hosts the world's first and only personalized genetics blog that allows you to get new gene-based recommendations daily. All genetic health information is supported with peer-reviewed scientific studies with constant checks for contradicting information. Vitagene's blog posts periodic, genetic interest pieces.
SelfDecode never sells your data or gives it away and has never had a security incident with user data. Vitagene does share user data with third parties, while allowing users to opt out. They also allowed users data was to be exposed online for an unspecified period of time before steps were taken to correct the breach.
| | | | | |
| --- | --- | --- | --- | --- |
| | SelfDecode | Vitagene | Orig3n | 23andMe |
| Comprehensive personalized holistic health recommendations | Yes | No | No | No |
| One-click regimen builder | Yes | No | No | No |
| Products | DNA testing, wellness reports, research-based personalized blog posts, health recommendations | Monthly personalized supplements, supplements report, diet, exercise, skin & ancestry reporting | Independent DNA health testing for diet, fitness, and other wellbeing topics; each test sold separately | DNA testing, traits, wellness reports, more accurate ancestry tracing |
| Raw data access | Yes | Yes | No | Yes |
| Cost (USD) | $97 – $397 | $49 – $289 + Supplement subscriptions | $49 – $249 + (many tests are marked 'sold out' with no pricing) | $99 – $199+ |
Vitagene Reviews
Trustpilot – 278 Customer Average Rating of 3.6 of 5 stars
Reviews of Vitagene on Trustpilot are generally positive with people saying they found the health information provided interesting, while negative reviews focus on the generic character of the Health report and perceived inaccuracies in the ancestry report.
Amazon – 595 Average Customer Rating of 3.9 of 5 stars
This score refers to the "Vitagene DNA Test Kit: Personal Ancestry + Health Personal Genetic Reports". Positive reviews emphasize how Vitagene's reports are easy to use and understand. Negative reviews stress that the value added by the Health report is minimal and not worth the price, with some people complaining about inaccuracies in the ancestry tracing.
Check out Vitagene on Twitter
The Vitagene hashtag on Twitter can help potential users better understand some of the potential health benefits they can achieve by implementing the recommendations included in their personalized health report, especially with respect to supplementation.
Read what people are saying about Vitagene on Facebook
Some users on Facebook complain about unreliable service or problems with their subscription. It appears that Vitagene is responsive to these customers with most comments receiving a prompt response.
Alternatives to Vitagene
SelfDecode: The most comprehensive and economical health-focused DNA analysis service, with personalized reports and holistic recommendations to improve overall quality of life and enhance genetic self discovery.
Vitagene Review Summary
Vitagene offers a well organized and user friendly genetic health testing service where people can learn about their unique genome and use this understanding to personalize aspects of their health. The platform does offer basic ancestry tracing but not genetic disease tracking, which is one of the more common reasons people seek out DNA testing.
The primary focus of Vitagene is their supplement subscription plan. If you are not interested in using supplements to alter your approach to wellness, the value of their reports will be somewhat limited. However, there are recommendations about different avenues to fitness and treating skin conditions, as well as general diet information for such users. Unfortunately, the supplement subscription prices are not posted on the website, so you can only evaluate the total cost of Vitagene's service after having bought one of their packages.
Conveniently, users can upload their DNA if they were already tested from other services and receive basic health reporting for only $49. The full reporting Premium option minus an initial supplement subscription is also quite affordable at only $139, with the subscription bringing the price up to a more expensive $289.
User data privacy is a mixed bag with Vitagene. They had a major security breach discovered in 2018, which seems to have been due to negligence on their part rather than an infiltration of their systems. Additionally, their privacy policy states that they share user data with a variety of third party vendors, and although users may opt out of such sharing, they have to know to do so. On the plus side, Vitagene does not sell user data.
Customer reviews are generally positive on sites such as Trustpilot and Amazon, with users stressing how easily understandable the reports are, while some less satisfied clients complain about the ambiguity of the health recommendations. The biggest open question about the value of Vitagene seems to be the cost-benefit-value of their supplement subscription plan.
Users interested in basic ethnicity and ancestry tracing along with a genetic health report on diet, fitness, and skin conditions will likely be satisfied and enjoy the aesthetic and straight-forward reports that Vitagene has to offer. Vitagene's prices are considerably better than other comparable companies, such as Orig3n, but their offering is also severely limited in comparison to a platform such as SelfDecode, which tests up to 83 million genetic variants that are decipherable through a vast quantity of reliable research in genomics and health sciences. The range of health topics, cost-benefit, and thoroughness of wellness reports that SelfDecode provides are unmatched, with over 24+ reports available that include topics such diet, gut health, and weight – with new reports being released weekly.
SelfDecode
If you're searching for a more comprehensive look at your health overall but don't want to have to decipher all the science talk – SelfDecode offers a holistic, truly personalized, and easy-to-understand approach to health. But SelfDecode doesn't stop there – they also offer prioritized diet, lifestyle, and supplement recommendations aimed at optimizing your well-being.
SelfDecode's mission is to help people learn more about their health than they ever have before by making health care personal. That deep understanding of what makes you, you is exactly what helps you take actionable steps towards optimal health so you can feel happier, healthier, and live life to the fullest.
If that's something you're looking for in a DNA company, then give SelfDecode a try.